GREAT  GIFT 🎁
Our motorized flying orb floats, glides, and climbs through the air at your command, then returns to your hand like a boomerang. It lets you light up any room with incredible acrobatic tricks that get people asking, "How'd you do that?"   
 🎇MADE WITH BRIGHT LED
🌠The Fly Orb Pro is the toy of the year! It features an aerodynamic enclosed orb design allowing it to effortlessly glide through air leading to an extremely fun and addicting experience. Toss it up and watch it fly, float, glide, and climb before hovering back to your hand like magic!

"Rasengan", "The Force", "Magic" - call it whatever you want, but no matter what - you can count on the motorzied FlyOrb to make its way back into your palm after each and every throw. Let it go and watch it fly, float, glide, and climb before elegantly returning to your hand like a boomerang! Physics in action!

💡Attention: We are going viral on social media and have very few units left. Place your order now to ensure you get a FlyOrb before we sell out.
Safe for children! Keep your loved ones entertained and educated for hours! FlyOrb trains hand-eye coordination and makes for a fun workout - physically and mentally.

🌠Take it with you anywhere (anytime). Small enough to fit in the palm of your hand - play with the FlyOrb whenever you feel the itch arise (whether that's in the kitchen, backyard, at the beach, or at the park!).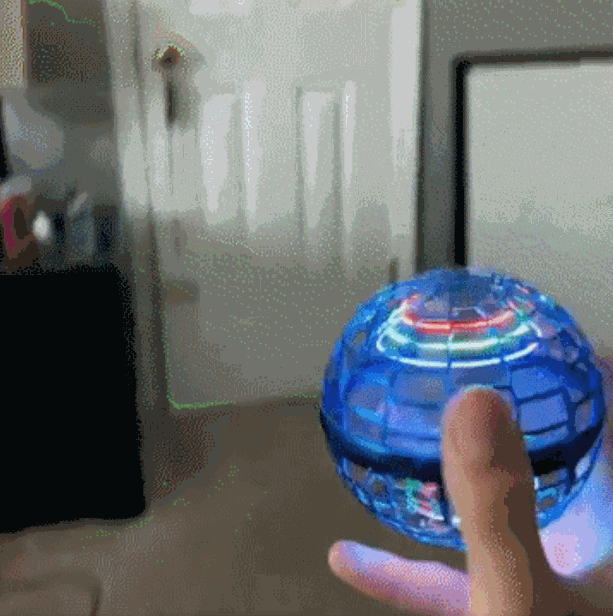 🌠Lights up in the dark! Neon LED lights lining the outside and inside of the FlyOrb make it an eyecatching toy extremely fun to play with at dusk.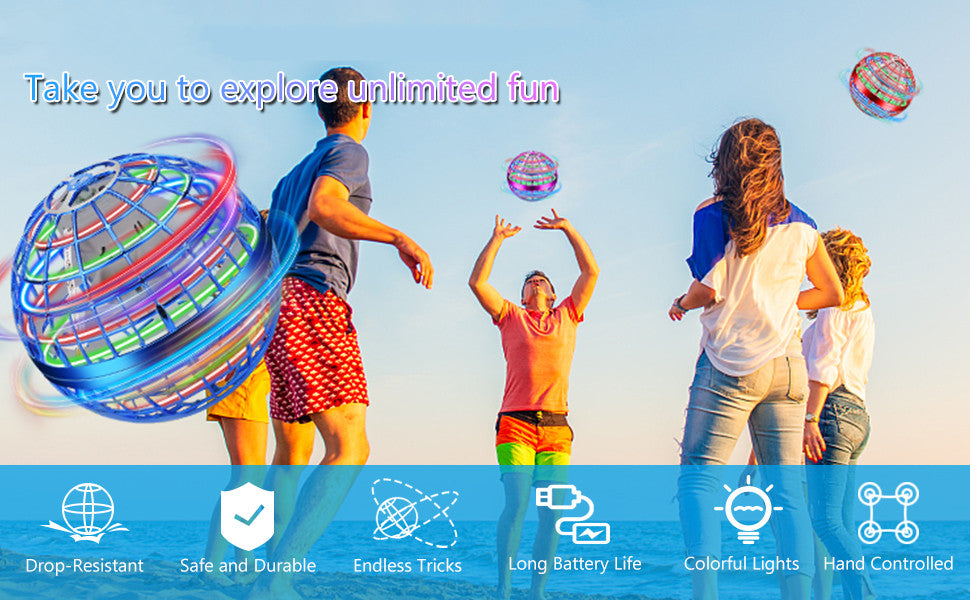 🌠How To Play the Flying Ball
We give you much more than a flying toy, it's also the bridge between your kids and you.
Turn on the power button and hold the fly ball upwards, then simply shake or pat to start! You can choose different angles and throw it to fly. The flying ball will fly back or forward with many different ways because of the reaction force from the wind and the gravity of itself

When you toss the flying toy upwards 30° to get flying, it will spins around its axis perpendicular to the direction of flight and fly back to you. Then you can catch it.

Turn it downwards 30° and toss the flying orb under horizontal direction to get flying. It will fly travels steady in a straight line. If you want to stop playing, just shake or pat this flying ball and stop the spinning. It's easy and safe. The enclosed wheel design can protect your hands while the toy fly.
🌠Safe And Durable Flying Toys With Boomerang Function
Made of high quality PP material, our flying ball toy protective shell is soft but very durable. You don't have to worry about that the flying toy will be damaged easily by your kids. It will stop automatically when it hit the furniture or any other stuffs. What you need do is to try more times until you can control the flying toy well, then you can get the real fun from this amazing product.
💡Notes:
Flying ball drone is suitable for children over 6 years old.

The flying ball toy has a built-in battery, please be careful not to disassemble or wet the battery.

Keep your hair away from the product, especially when the ball is spinning.

Flying Orb has the function of stopping when it encounters a collision, so once it touches something, it will stop flying.

When the red indicator light flashes that show low battery, and the flying orb will automatically land.

When operating the flying orb, choose a place with less obstacles.